Dear Michael,

Please will you put this on the Old Priceans' website:

My name is Antony Porter and my e-mail address is antonyporter7846@gmail.com
I first went to Price's in 1957 and can still remember the roll-call for my
class, 2B:

Jenner, Johnson M, Johnson R., Jones, Keith, Kemp D., Kemp R., King, Lampard,
Lewis, Mason, Myhill, Oakshott, O'Keefe, Porter, Salmon, Searle, Smith A.,
Smith D., Stride, Thomas, Turner B., Turner M., Wake, Watton, Wills, Whitt,
Wright.

Are any of you still around? If so, let's meet and talk about happier,
simpler times! I am also keen to get a copy of our school photo for that
year, 1957-8, my own copy having disappeared years ago.

Yours,
Antony Porter.
Here is the grave of William Price in St Peter & St Paul's churchyard. The inscription records that William Price died on 31st May 1725 aged 71 years. It also records that Mary, his wife, died on 20th May 1718 aged 68 years. William Price, Senior, died on 12th June 1665 aged 48 years.
Family Grave of William Price who died on May 30th 1725

(Note: Not all members may be aware of the location of the tomb. It can be found in the churchyard of SS Peter & Paul most easily if you enter from the High Street next to the cottages and proceed towards the east end of the church about fifteen paces. The tomb can be found to the right about another fifteen paces or so under a Yew tree. It has brick sides with a stone cover.)
Summer Luncheon 1998

A fine gathering of members and their partners enjoyed lunch at Lysses House Hotel on Sunday, 5th July 1998. Eric Poyner, headmaster 1959-1979, Tom Hilton, whose association with the school dates from 1935, Roy Daysh and John Cole, former masters at the school, Anne Ashton, daughter of the former headmaster, George Ashton, as well as pupils back to 1920's consumed a delicious lunch of salmon mixed with lively conversation. We were particularly delighted to be joined by Eric (Dusty) Titheridge (1934-1939) from Manitoba, Canada and Kelvin Parker (1964-1970) from Dallas, Texas. Kelvin brought with him Kevin O'Carroll (1963-1970) from Loch Lomond, Scotland.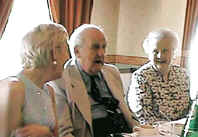 Tom Hilton seen here with Peggy to his left and Sue Marlow, wife of our Chairman, to his right.