Welcome to the website of the Society of Old Priceans
Remembering Price's Grammar School, Park Lane, Fareham and Price's College, Fareham Founded 1721 demolished 1989.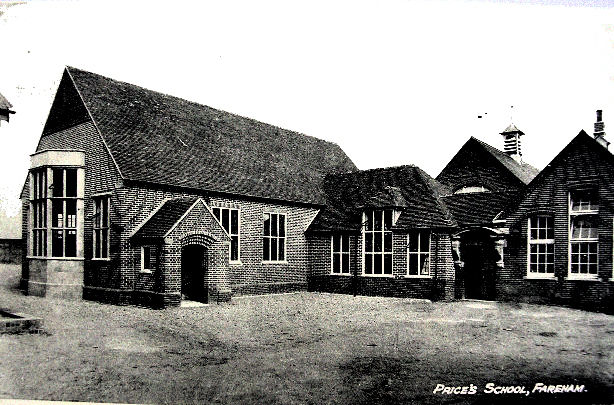 | | | |
| --- | --- | --- |
| | | |
| Stephen R. N. Bradly 1908-1934 | George A. Ashton 1934-1959 | Eric A. B. Poyner 1959-1977 |
<! -- Replace name@website.com with your email address -->
Christmas Lunch - RAF Club, 128 Piccadilly at Noon, Saturday 1st December 2018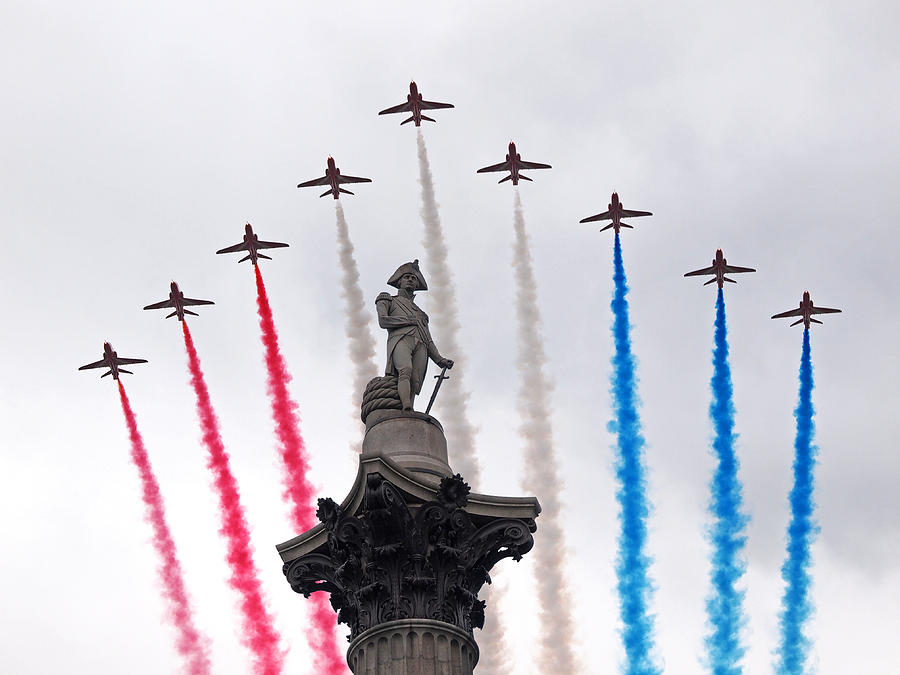 The Society has booked the historic surroundings of the RAF Club in Piccadilly in the year that it celebrates the 100th Anniversary of the formation of the RAF for our traditional festive Christmas Lunch. Please download your invitation and pay by cheque or BACS
A/c: Society of Old Priceans Sort Code: 20-44-22 A/c No: 50869732 Ref: Member name
If paying by BACS please notify the Secretary, Michael Peagram about your menu choices at michael.peagram@gmail.com with the subject line "RAF Christmas Lunch" The invitation may be downloaded here.
The menu will be:
Cream of parsnip, celery & apple soup, Roast Norfolk turkey with chipolatas & bacon served with chestnut stuffing, cranberry & bread sauces traditional roast potatoes & selection of seasonal vegetables Christmas pudding with brandy sauce Coffee, mince pies and stollen together with wine/soft drinks.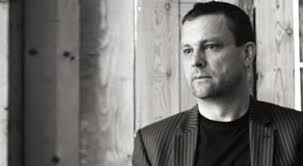 This year we will have as our guest speaker one of the UK's twenty favourite authors, Damien Lewis (www.damienlewis.com). Damien is also a noted film maker and has been a war correspondent. He is an expert on WWII special forces and their crucial role in various theatres of the war.
Falkland Islands - Two Sisters
Pictures of a recent trip to the Falkland Islands including a visit to Two Sisters where Cpl Ian Frank Spencer fell.
Annual General Meeting and Lunch at Fareham College Friday, 5th October 2018
An excellent AGM and fine lunch was held at the College in superb weather. Pictures of the event can be seen here: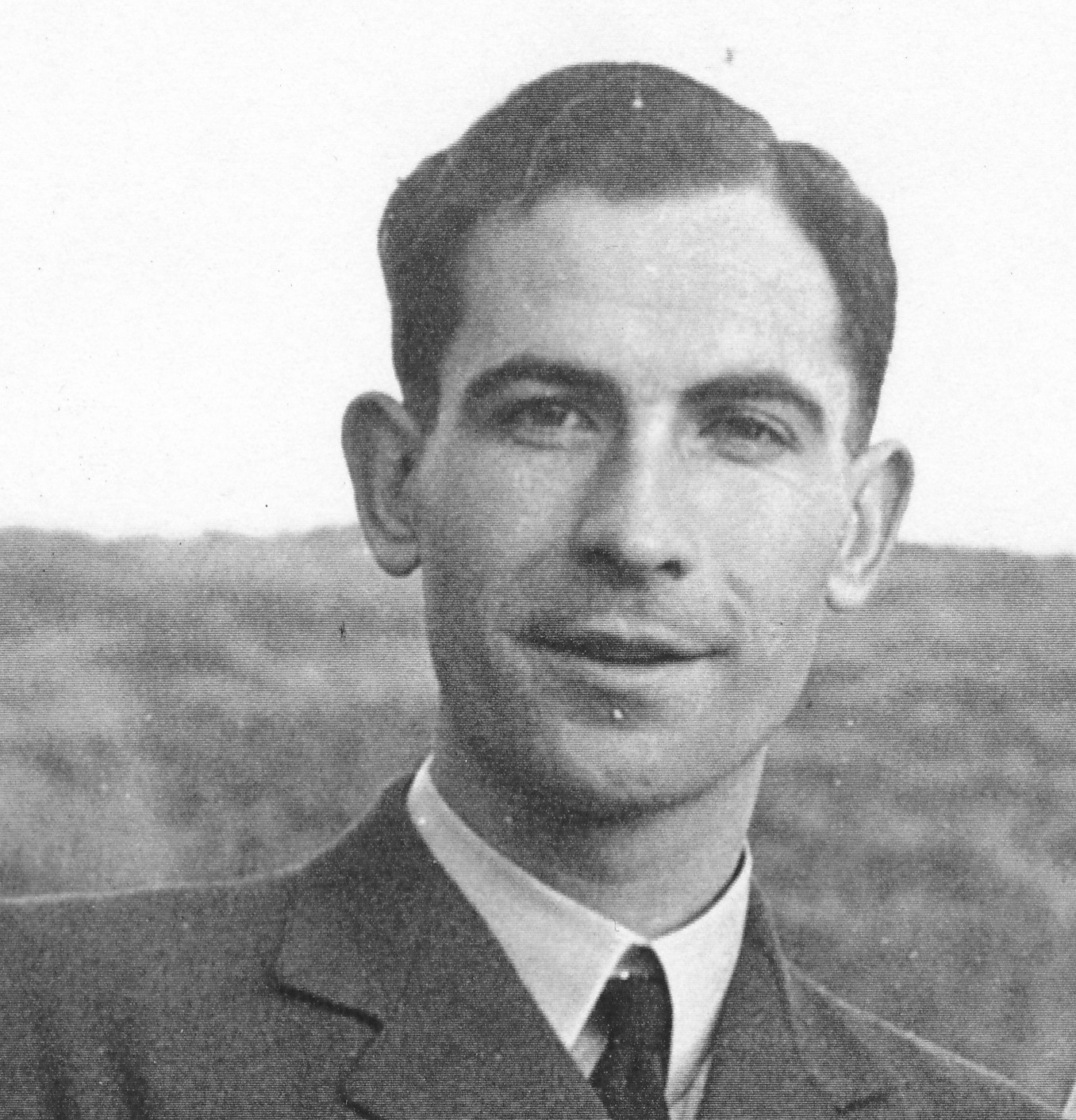 Roy Daysh, former Joint Head Boy and master, who died in 2016 at the age of 85, maintained an archive of material here...
School Cruise 1963 - Wonderful pictures of a Baltic cruise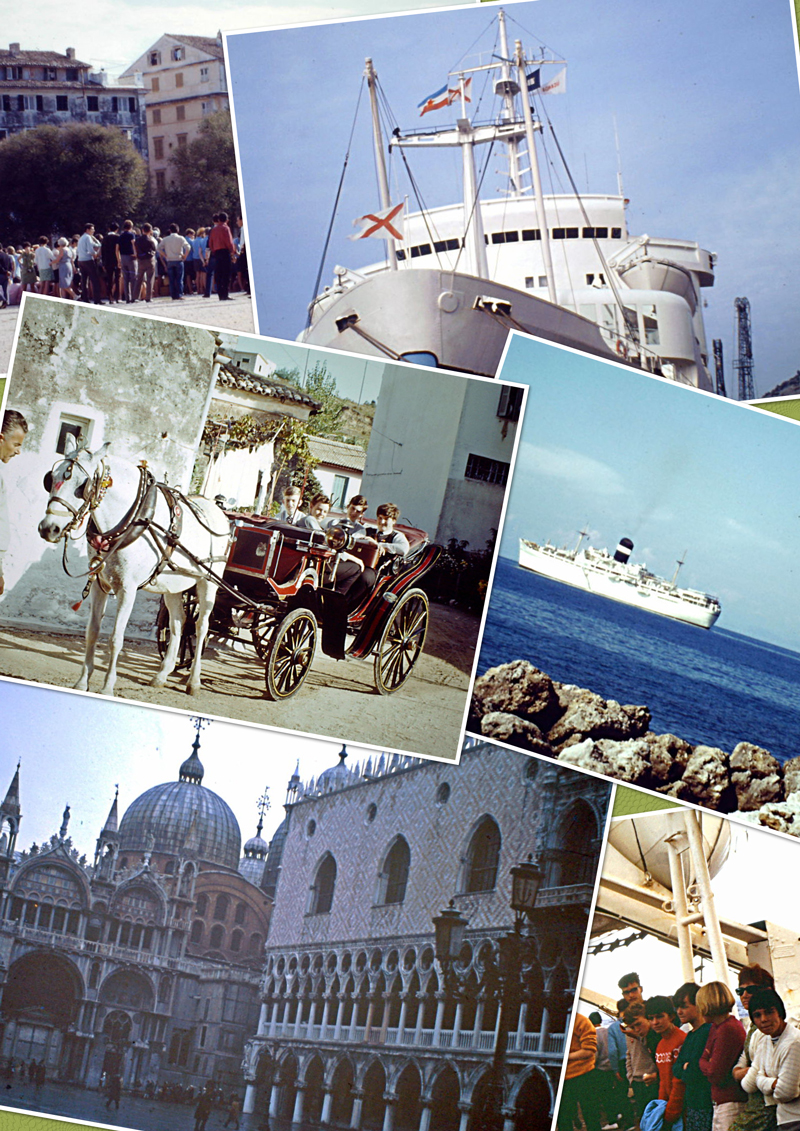 More School Cruise photographs from Paul Gover from 1969/70 including Mr Howard-Jones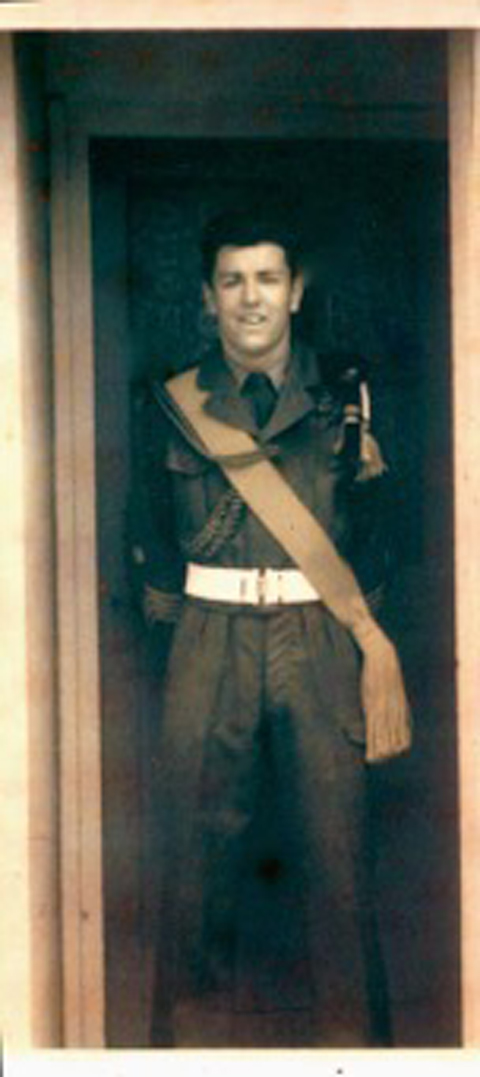 Terence Wood has written an amazing three volume study of the Military Insignia of Hampshire and IOW including Price's CCF.
We were delighted that Fareham's Mayor, Cllr Susan Bayford, honoured us by laying the Wreath at the tomb of William Price.
This was reported in the Portsmouth News here: https://www.portsmouth.co.uk/our-region/fareham/society-remembers-school-founder-1-8522495
The inscription on the top of the tomb is difficult to read despite regular maintenance but through the efforts of Louis Stamp and supported financially by both the Society and the William Price Trust, a plaque clearly restating the text has been affixed to the tomb.
General Data Protection Regulations
The Society is anxious to comply with the GDPR. If you provide the Society with your contact details, please be aware that they will be retained by the Society only in order to provide news of events and to keep you informed of Society matters. They will not be passed to third parties for marketing purposes.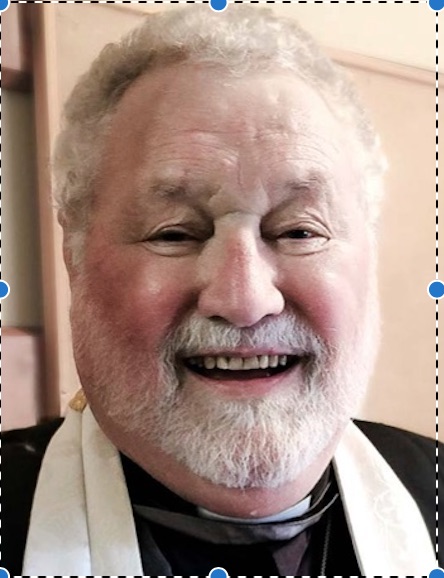 Rev Geoffrey Vine (1951-58) from Dunedin, NZ has died. Read his remarkable story of shaking hands with Mao Tse Tung here
Peter Kiddle has died. His obituary appeared in The Guardian and here is a photo of him in Sixth Arts Upper 1960.
The Photos of Peter Gwilliam
Sadly, Peter who was at Prices between 1943 and 1947, died two years ago in Perth, Australia but his wife has kindly sent these splendid pictures shown below and more here.
Peter's daughter has kindly supplied some wartime "Lions" to the Society and tells how Peter flew through Hydrogen Bomb clouds as part of weapons testing on Christmas Island here.... Some additional photographs of Gosport Scouts, Elson Road School.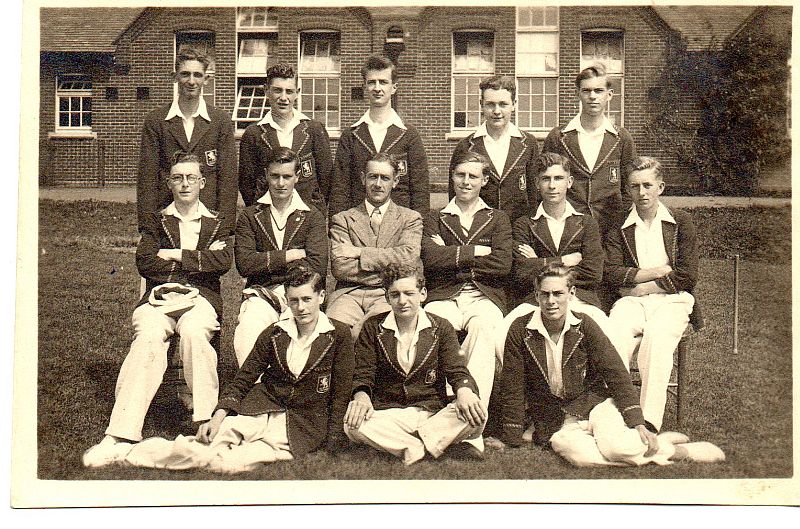 Price's 1st X1 Taken 21 July 1945 Reading l to r:
Back Row: Wilkinson. Gray. Knight. Holt. Grogan Middle Row: Suggate. Young. Mr. Shaw. Cole. Daysh. Smith
Front Row: Nicklees. Ashwell. Betts
The Great War 1914-18
This year will see the 100th Anniversary of the Great War cease fire which occured on 11th November 1918. Here is the honours board for Prices School which was held in the stairwell of Westbury Musuem after the demolition of the School.
Patrick B. A. Ridett (1948-53)
It is very great sadness that the Society must record the passing of Patrick Ridett. His funeral will be held on 27th April at Noon see details below.
Patrick undoubtedly saved the Society from closure in the mid-nineties.
With great skill, charm, drive and energy he set about reviving the virtually moribund Fareham Society leading to the merger with that of the London Society of Old Priceans. Supported by Michael Croad-Brangwyn, our late Treasurer, he put the finances of the Society back into a healthy position and created the template for the present form of the current Society with regular events in Fareham and London.
Patrick served as Chairman and President and despite the awkward journey from their home in North London, he and Janet, his wife, were stalwart and much valued supporters of our events.
You can read President, Patrick Nobes' excellent eulogy here.

John "JB" Chaffey - Geography master
Distinguished geography master and noted author, JB Chaffey (second left), has died at the age of 85. A memorial service for him will be held on Friday March 3rd at 2.30 in St Edwards Church, Corfe Castle.
Memories of Prices 1963 by David Kill
David Kill recalls Prices in 1963
The Chairman of the Society

At the AGM on 2nd October 2015 Phillip Reynolds (pictured below) was elected to succeed outgoing Chairman, Charles Evans. Charles has suffered a period of indifferent health and felt that he could no longer continue to serve the Society in that role as he would have wished. He will, however, continue to be a member of the Committee and has been elected Vice-President.
Prices School Photo 1933
The Society is delighted to have received an original copy of the 1933 panorama photograph provided by Chris Croker, son of the late R. W. Croker. Full details here.
Westbury Museum helps search for 1947 photo names

David Williams has arranged that Westbury Museum will display the newly framed photograph of staff and students in the 1947 panorama. Michael Herbert supplied the photo and recognised a number of names but we are searching for more. If you can help, please contact David: david@family-williams.me.uk
Peter Callendar in Auckland, NZ has kindly supplied the larger photo shown above which is a professionally produced scan of his pristine 1947 photo.
School Photo 1957
We are delighted to have received a scan of the School from 1957 from David Bloxham. An enlarged photo can be found here.

Rear Admiral Roger Charles Dimmock CB
Roger's outstanding career including a crash at Farnborough Air Show in 1958 can be found here: The Daily Telegraph obituary is here. A detailed outline of Roger's career is here.
The Photos of David Thomas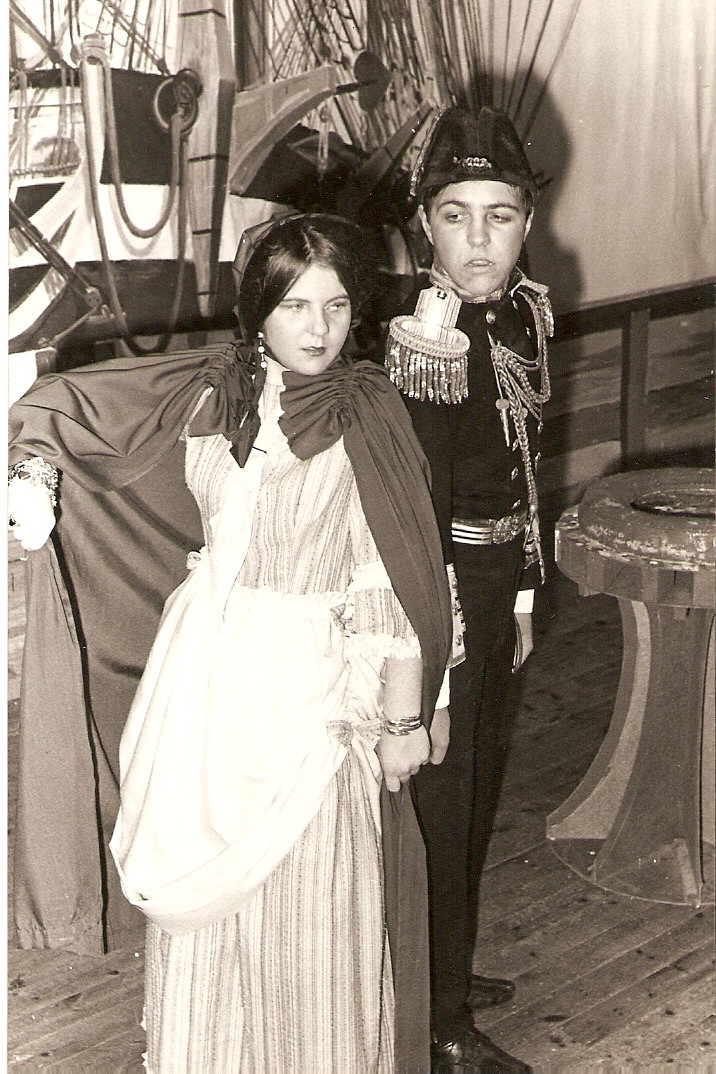 David Thomas (1961-1968) has supplied some excellent photographs from various dramatic performances during the sixties including HMS Pinafore with Fareham Girls Grammar School here and Programmes here:
Ralph Thacker letter
Here is a copy of a letter from Ralph Thacker written in 1990 to Eric "Dusty" Titheridge.
Pictures of the event have been posted on the Society's Facebook page here https://www.facebook.com/groups/167320609964747/.
David Goldring has done some extraordinarily detailed research and produced two excellent, multi-page reports which he has made available here: Sports Day and Combined Cadet Force
"Pamela Devlin has given me a Price's Charity button that Keith had (whence it came she knows not) so that I can pass it on to the Archivist. Attached is a (not v good) photo of it, which I thought might interest people on our website, together with a 1st XI Hockey (1951)"
The Hockey photograph also shows Bryan Cozens, who has recently died. Further information is here.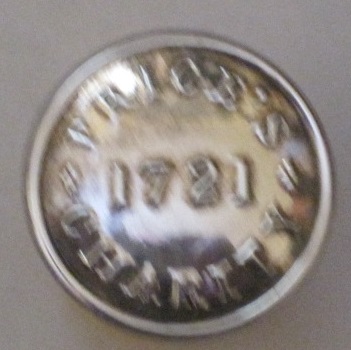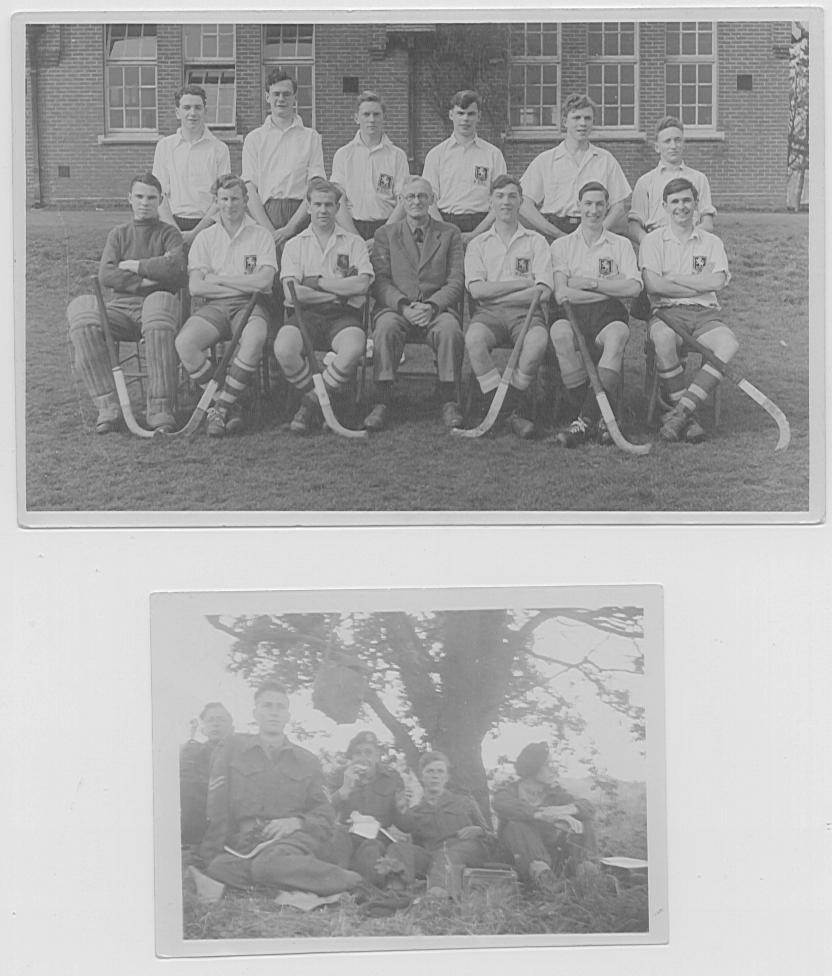 back row: Wadey, Purkiss, Dimmock, Byng, Devlin, Rudling. Seated: Byng, Gregory, Cozens, ROJ, Turner, White, Nobes.
And a CC Field Day from L to R: Stone, Jarmain, Nobes, Devlin, Brown ("Bull" not D). About the same date.
Living History Project
The Academic Achievements of Prices pupils - a detailed review here.
Prices School in the Evening Echo 6th July 1971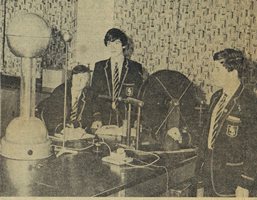 Philip Cooper send this clipping here.
Sports Days 1962-1959
David Goldring has supplied well-preserved and annotated programmes for Sports Days for 1962, 1961, 1960 and 1959 which may be viewed by following the hyperlink.
Ian Frank Spencer:
Two Sisters, Falkland Islands -11/12 June 1982
It is nearly 30 years since the surrender of the Argentine forces on 14th June 1982 to end the Falklands War. On Remembrance Sunday we remember former pupil, Cpl Ian Frank Spencer of Zulu company 45 Royal Marine Commando who was killed on 12th June 1982 in the attack on Two Sisters, a key strategic part of the horseshoe defensive line which the Argentineans had created around Port Stanley.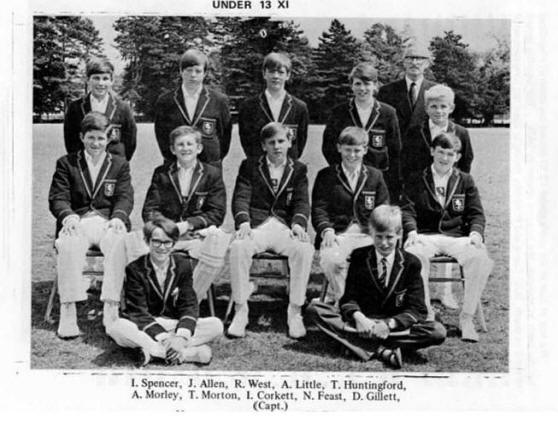 Ian Spencer can be seen in this picture from the 1969 Lion. Although he appeared to be a promising cricketer, he was also mentioned in relation to swimming and judo in later Lions.
Whilst searching for details of the battle, this article came to light: http://goo.gl/TxAgL.
His platoon leader, Lt. Clive Dytor wrote:
Thank you for your enquiry about Cpl Spencer.
As a young troop Commander in the same Zulu Company, I was always very impressed by Cpl Spencer's professionalism and wonderful sense of humour, both vital elements in war. He was a Junior leader right at the top of his game and was also an inspiration to his marines. All my memories are positive.
I hope this helps in some way. Well done on the work you are doing: I am sure that his family will appreciate this.
Clive Dytor
Alan Glynne-Howell - an appreciation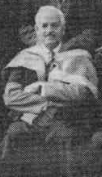 Kevan Bundell writes an appreciation of Alan Glynne-Howell who joined the School in 1965.
A Lament for Prices
A musical tribute to the School....
William Price Commemorated
William Price died on 31st May 1725 but founded the School by his Will dated 1721. He lies in the cemetery of St Peter & St Paul, Fareham. Several members of the Committee took the opportunity to place a wreath at the tomb on the anniversary of his funeral which took place on June 3rd 1725.
The ceremony was conducted jointly by Patrick Nobes (President) and Charles Evans (Chairman) and was attended by Derek Marlow (Vice-President), Michael Croad-Brangwyn (Hon. Treasurer), Richard Brent (Hon. Archivist), Brian Pearce and David Williams.
It has been decided that this will be now an annual event but in future will take place prior to the Summer Luncheon.
Prices in 1911
An interesting piece of research by Mike Bayliss lists the "Residents" in the census of 1911:
Anniversary Event 2008
The Old Priceans Centenary Summer Luncheon at Ferneham Hall, Osborne Road, Fareham took place on Sunday 8th June. This was preceded by a walk from the site of the original school in West Street, Fareham followed by a service at SS Peter & Paul Church, Fareham led by old boys, Very Revd. Peter Hancock, Archdeacon of the Meon with an address from Revd. Canon Martin Seeley.

A professionally produced souvenir photographic album of the event is available here.

Former English master, Tony Johnson was moved to pen this poem:

CLASSROOM EXAMINATION - 2a Price's School 1966
These ageing men were boys I used to teach.
Now, rôle reversed, I listen and I learn,
For one boy's now the canon come to preach
To attentive silence more than I could earn.
They were the cunning masters of mayhem,
Of artful doodle and of daring daydream.
Such fine bubbling brains! No one could stop them
From acting like a loose anarchic team.
Memory draws a classroom castle in the air,
Where appear thirty brilliant pairs of eyes,
Which stalk the ether and begin to stare.
To scrutinise, assess, and analyse.
Are you weak? Are you strong? You cannot bluff.
We can shave off a beard or rip off a mask.
Who are you? Do you care? D'ya know your stuff?
Answer! Before you set us any task!
.
Tony Johnson
Tony wrote: Canon Martin Seeley looked at me and said,"2a." He gave the address at St Peter and St Paul on 8th June 2008, in a ceremony to mark one hundred years after the move of Price's School from West Street to Park Lane. He was in 2a and was one of several in that class who eventually went to Cambridge, the best class I ever taught.
Westbury Exhibition closed 21st June 2008

The Exhibition featured display panels and cabinets intended to provide visitors with an extensive view of Price's and The William Price Charity through the years.

F. E. C. Gregory's book The History of Price's School describes the original opening...
---