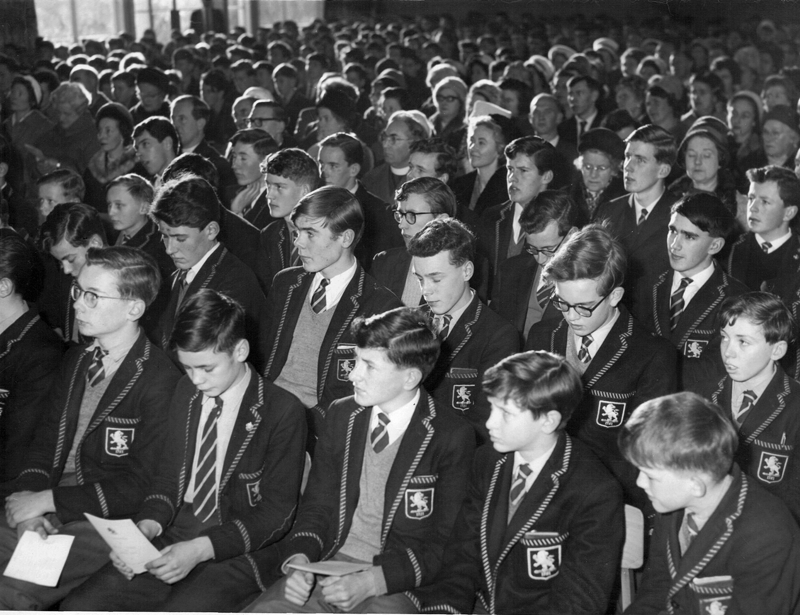 the recent pictures and feedback from the 1960s cohort has nudged me to locate the attached photo of the 1963 school prizegiving.  Same camera angle, same rows of uniformed boys as 1969! 
The front row is the First Form prizewinners;  l to r me (with glasses), Mick Knight, Alan Hartridge, John (Trog) Brooke and George? Grimble.  Mick and Alan also appear in the 1964 U13 Hockey photo recently published from David Greenaway although they do seem to have matured considerably since the prizegiving photo. I think Mr Grimble's name was George, but wonder if this is the same person as your correspondent Professor Bob Grimble in the 26 April 2020 update. We went on a week's cruise to Scotland in 1966 on board the Royal Navy Dartmouth Training Squadron frigates but that's another story ....
Looking at the photo I was struck by the number of us wearing jumpers. Was this to fill out the generously sized blazers purchased by our parents from Messrs Silvers or was the heating inefficient? After locating my diaries from those days I find that the event was held at the end of the following winter term (18 December 1963 to be precise) not at the end of the academic year in July. Not quite four weeks after another world-shattering trauma in Dallas, Texas.
Sitting directly behind me (although between Mick Knight and Alan Hartridge in the photo) is my future brother-in-law John Morris. Little did anyone know at the time that in 1972 I would marry his sister Kathy, and we look forward to our 48th anniversary this coming week. I still have the embroidered school scarf that my contemporaries may remember.
Perhaps this photo will trigger more interesting feedback as came from the 1969 prizegiving photo. I too recall Alan Croker, we were contemporaries at primary school and Prices. I was saddened to read of his untimely death. Somewhere in a box yet to be rediscovered I have more photos and memorabilia of school days. When I find them I'll share some more.  
Looking forward to 
23 May 2021
 – I have it in the diary already!  Keep up the good work.
John Mitchell (1962-68)